Hosted in London by the National Police Chiefs Council (NPCC) and NPoCC (National Police Coordination Centre), the Op Talla National Awards 2022 recognised teams and individuals, from across the country, for their roles and contributions in the Police Service's response to the COVID-19 pandemic.
The PNLD team was commended for its outstanding contribution to policing the pandemic. Ensuring time critical legislation updates were available along with the delivery of a national communication strategy. Together, this ensured a consistent approach to different regions of the United Kingdom during the pandemic.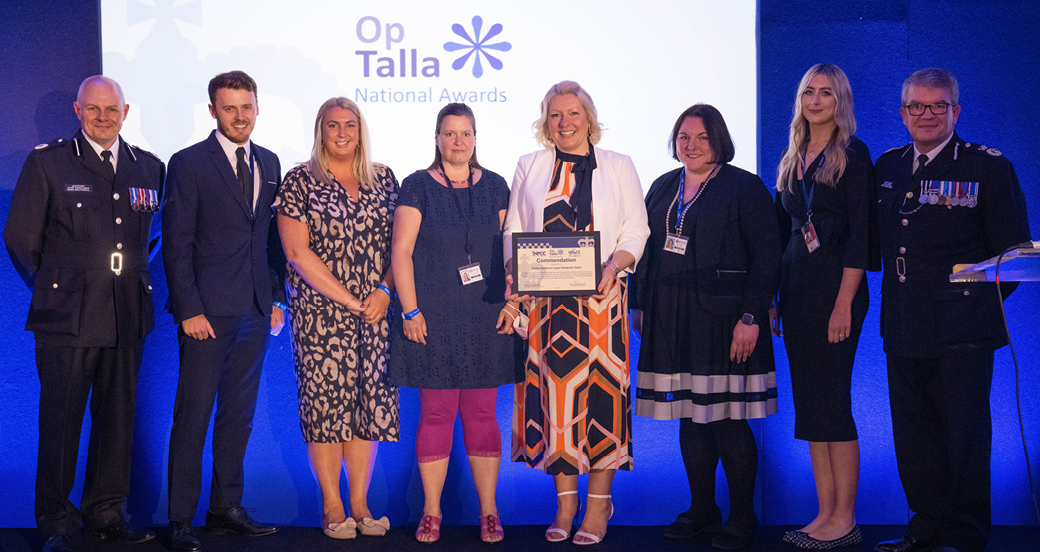 (Members of team PNLD were presented with their commendation by the NPCC's Chair, Martin Hewitt and Assistant Chief Constable Owen Weatherill from NPoCC).
PNLD's covid response team responded to complex and time critical introduction of new legislation, regulations and guidance which saw frequent changes over a prolonged period of time. PNLD's legal database enabled frontline policing to consume the relevant information in an easy-to-understand format and consistent way. This included providing swift and immediate access to the National Standard Offence Wordings and CJS Codes, created by PNLD and used throughout the criminal justice and courts system of England and Wales.
Business and Service Delivery Manager, Caroline Lecomber said:
"I am absolutely delighted that PNLD have been recognised by Op Talla, in supporting the police and the public across the UK, dynamically, with accurate and immediate legislative information.
I am proud that the staff of PNLD were positively involved in the national response to Covid-19 and we are grateful to be acknowledged and appreciated at this level."
Assistant Chief Officer Katherine Johnson said:
"We were honoured that PNLD was recognised among the fantastic efforts of the teams and individuals who played such a vital part in keeping people safe and informed during the Covid-19 pandemic.
I am very proud of the team for their excellent work, and I am sure that the other UK police forces and our criminal justice partners, which the PNLD does so much to support, are equally as grateful for the key role they played during these difficult times."
Click
here
to learn more about PNLD's variety of products & services to the criminal justice arena.